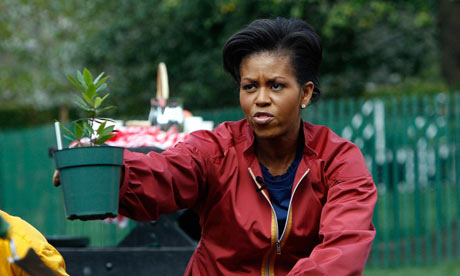 The quiet revolution spreading steadily across the US in the way Americans produce and consume food is about to acquire a powerful endorsement in the form of a farmers' market planned for one of the better-known corners of the capital. It will be sited a block away on the north side of a large white house and will have the backing of its occupier, one Michelle Obama.
The plan is the latest building block in the movement the first lady has been seeking to build over food and health since she entered the White House in January. Though her office is refusing to engage with media speculation, the telltale signs are there that she plans to extend her campaign - launched in March with the opening of a food garden in the White House grounds - by backing a farmers' market just a stone's throw from her presidential home.
Excitement levels among web-savvy organic food enthusiasts went through the roof today in anticipation. It was disclosed that an application had been made to the local city authorities in Washington DC to close Vermont Avenue on the north flank of the White House to traffic on Thursday afternoons for six weeks until the end of October.
The application has been made in the name of a local non-profit group Fresh Farm Markets. Telltale sign number one was that Sam Kass, who has worked as the Obamas' personal chef in Chicago and now advises Michelle on her White House food garden, turned up at public meetings to back the proposal.
Telltale sign number two was that the city authorities have let it be known that Fresh Farm Markets is in cahoots with Obama. "It is our understanding that the group is working with the White House," John Lisle of the city's transportation department said.
Sign three: Barack Obama's comment last month that his wife was looking at a little market nearby. "I'm not going to have all y'all just tromping around - but right outside the White House," he said.
The first lady's passion for healthy eating began, she has said, in the early stages of the gruelling two-year presidential election campaign that her family endured. "We started to see that taking a toll on our health," she said. "Our children's paediatrician gave me a little tap on the shoulder and said you might want to make some changes."
She eradicated processed foods and concentrated on a simple diet in moderation. Her concern for her own family led to a wider interest in the obesity epidemic that has a fifth of all American children in its grip. Having moved into the White House, and with a little prodding from organic advocates such as Alice Waters, the chef of Chez Panisse in Berkeley, California, she decided to turn over a little over 93 sq metres (1,000 sq ft) of the South Lawn to fruit and vegetables.
Six months on and the garden, Michelle Obama has said, is "beautiful; it is blooming; it is bursting". More than 50 varieties of vegetables are grown, including rhubarb, tomatoes, peppers, spinach, okra and aubergines. Of the 225lbs of food grown so far, some has gone to what Obama calls "big fancy luncheons" at the White House, some to her children, and some to homeless people at Miriam's Kitchen, a local shelter.
Her objective is clearly to take some of that mass obsession with her own health and fitness, and project it on the American population at large. And it appears to be working. "Her action of planting an organic garden on the White House lawn for all to see speaks louder than words, and it's having an impact," said Lisa Bunin of the Centre for Food Safety.
Ronnie Cummins of the Organic Consumers Association said they were looking to Obama to be the "farmer-in-chief". His group petitioned her with 100,000 signatures to set up the White House food garden, prompting counter-efforts from the pesticide and agribusiness sector which took out advertisements saying Obama's organic push was ill-advised. But Michelle Obama is not one to give up easily. As she told a class of children who came to dig the new plot: "We did a lot of work moving that dirt. That was harder than I thought. That stuff was heavy, wasn't it?"