Overview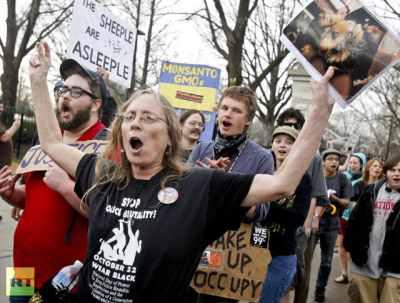 Rediff
: "Agriculture, the dispute over Genetically Modified (GM) crops and the fate of farmers across the world is one of the key areas in which unrest is mounting. One signal of this at the global level is the call to 'Occupy Monsanto'."



Davis, CA
Alternet
: "'We are calling for a global class-action against Monsanto,' said Steven Payan, one of the Davis protest organizers. 'We are joining the world in solidarity to demand a ban on all GMO foods and hold Monsanto accountable for its actions throughout history from Agent Orange to Deforestation to current and past deaths to preying on small farmers through a broken court system and also through International Free Trade Agreements.'"
The California Aggie
: "Monsanto Corporate Affairs office released the following statement about the protest: 'We respect each individual's right to express their point of view. Agriculture and its uses are important to California, the United States and the world. The 21,000 people who work for Monsanto are involved in producing seed and technologies for farmers to help improve farm productivity and food quality. We believe farmers should have the opportunity to select the production method of their choice and all production systems contribute to meeting the needs of consumers.'"
Davis Patch
: "Protesters gathered in front of the Monsanto office on Fifth Street as part of a nationwide protest against the agricultural bio-tech company Friday morning. Monsanto employees did not show up to the building, which appeared to be shut down for the day because of the protest."
Flickr
Huffington Post
: "According to Steven Payan, a farm worker and organizer of the event allied with the Yolo County Peace & Freedom Party, the shutdown took place peacefully and without incident. The protest will continue on Saturday. Payan also said that the coalition's next efforts will be to draft a set of anti-Monsanto resolutions, and to bring their demands to the United Nations."
News10.com (VIDEO)
: "Demonstrator Lorraine Reich questions how feeding the livestock Monsanto's genetically modified corn and injecting the animals with antibiotics and steroids can be good. 'The only way that there's going to any change in our world, it seems to me, is when it hits the pocketbook and if that's going to hurt Monsanto today today, economically, we've been effective,' said Reich."
Occupy Sacramento Video Feed (VIDEO)
Video streaming by Ustream
The People's Vanguard of Davis
: "'I received word from the security that work was cancelled today,' Steven Payan said.  'We shut them down before they got started.'"
Sacramento Bee
: "Critics argue that the company's deep pockets give the government connections needed to head off criticism. 'There is not government regulation of Monsanto. They get whatever they want,' said Donna Russell, a Davis signature gatherer for the petition drive. 'We have the best government that money can buy and Monsanto bought it.'"
Techknowledge1 on YouTube (VIDEO)
Wiki World Order (VIDEO)
: "The Objective: To bring local awareness to the corporation Monsanto's control and involvement with the toxins in our food and water supplies and the ties they have in the government. We must start acting locally and thinking globally to bring down this tyrant of the food industry."
Los Angeles, CA
Occupy Monsanto in LA Gallery (PHOTOS)
YouTube (VIDEO)
Oxnard, CA
Facebook
: "What a great day. Up to 70 protesters total, no more than 40 at any given time, zero arrests."
Salinas, CA
Santa Cruz, IMC
: "On March 16, approximately two dozen community members, many dressed as zombies, demonstrated at the office of Seminis, Inc., which is owned by Monsanto Company and located in the city of Salinas. The group was protesting, in their words, Monsanto's efforts to, 'take total control of the world's seed supply by patenting genetically modified seed.'"
Hilo, HI
Facebook (PHOTOS)
YouTube (VIDEO)
Luling, LA
Facebook (PHOTOS)
St. Louis, MO
Photos of Occupy Monsanto's St. Louis Free Speech Blitz
St. Louis Post-Dispatch
: "Protesters who are part of a movement calling itself Occupy Monsanto hung banners throughout the region early Tuesday, a day after holding a march through downtown St. Louis and days after protests against the company were held in some 30 cities across the country."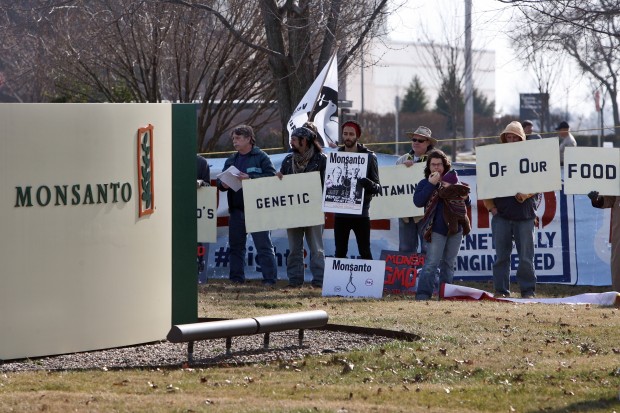 New York, NY
Occupy Wall St. Flickr Photos
Cincinnati, OH
College Station, TX
The Battalion
: "Several dozen students, farmers, Occupy protestors and an Austin City Council hopeful banded together to protest the corporate takeover of agriculture and food production at Texas A&M, one the nation's largest agricultural research universities."
Middleton, WI
Facebook
: "It was just Michelle (who brought the cutest little kite! :) and I today, got a sun burn! Nine more signatures! A few honks and a lot of waves and thumbs up's! BIG Thanks Michelle for coming it was awesome to get to know you. Keep on keeping on people! Call or send letters to our public officials. Tell them to support labeling and safety testing of GMOs and subsidies to help family farmers make the transition to organic. Much love and peace"
Seattle, WA
Facebook (PHOTOS)
Facebook

"

GMO Gates Monsanto Rally 3-16-12" (PHOTOS)
KPLU-FM, Seattle, WA
: "About 40 protesters in Seattle descended upon the Bill & Melinda Gates Foundation to demand that the philanthropy sever all its ties with the firm."
Seattle Protester Gazette
: "Anti-GMO Protest Asks Gates Foundation to a Q & A, Gates Foundation Refuses"
(PHOTOS)
Flickr (PHOTOS)
YouTube (VIDEO)
YouTube (VIDEOS)
Washington, DC
RT
: "America's Congress has been contaminated, but don't worry - someone is already on it. Members of Occupy Monsanto, a protest group opposed to the biotech giant, are dispatching aid to the nation's capital. Dressed in hazmat suits, members of Occupy Monsanto protested in Washington, DC on Friday over what they say are corrupt ties between American lawmakers and the country's agriculture architect, Monsanto."
Occupy Monsanto Visits a Genetically Modified Congress
Genetic Crimes Unit at the U.S. Capitol
(Photos)


Australia
Brisbane
Occupy Brisbane (Flickr Photos)
Sydney
Diary of an Occupier
: Hey Monsanto, give us back our little seed!!
Occupy Sydney (YouTube Video)
Brazil
http://ambienteja.info/ver_cliente.asp?id=175475
Canada
Guelph
Facebook (VIDEO)

Facebook (PHOTOS)
Guelph Mercury
: "Lindsay Logsdon says she picketed in front of the Monsanto East Business Office out of concern for her children. The organic farmer from a small rural community near Windsor traveled to Guelph with her family on Friday morning in protest of Monsanto, an agricultural biotech giant that produces bioengineered crops, commonly referred to as genetically modified organisms, or GMOs."
Winnipeg
YouTube Video
"Monsanitoba Protest"
Flickr Photos
"Occupy Monsanto Winnipeg"
Ghana


Guatemala



Italy
http://archiviostorico.corriere.it/2012/marzo/16/anima_bucolica_Occupy_Wall_Street_co_9_120316083.shtml
Japan

Occupy Monsanto Japan (Blog)



Occupy Monsanto Japan

(News Report)



Greece
http://www.newsnow.gr/article.php?id=19472
Poland


Over 1,500 beekeepers and their allies marched thru the streets of Warsaw, depositing thousands of dead bees on the steps of the Ministry of Agriculture, in protest of genetically modified foods and their requisite pesticides which are killing bees, moths and other agriculturally-beneficial insects around the globe.
Romania
VIDEOS